Looking for the ultimate Team Building Event? Hen or Stag Do? Birthday or other Celebration?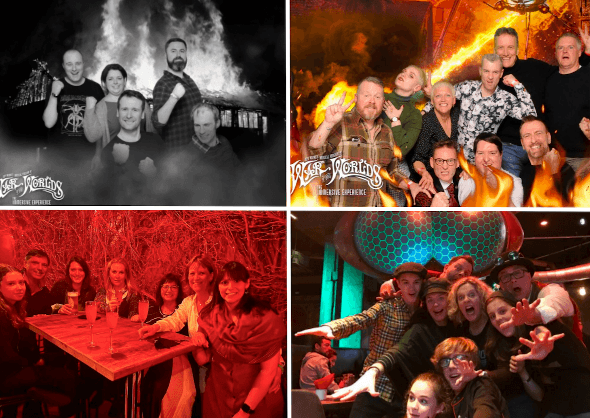 Calling all friends, families, party planners! Are you looking to visit one of the best events in London this year?
Groups of friends, family, and colleagues say they have the most fun at Layered Reality experiences, so why not gather your favourite people and try something unique that will be the talking point amongst you all for weeks and months after.
With its combination of live actors, 24 interactive scenes, Virtual Reality, themed bars, plus Jeff Wayne's iconic score, the multi award-winning Jeff Wayne's The War of The Worlds: Immersive Experience is unlike anything else you've ever experienced before and is rated 5/5 on TripAdvisor and #13 of ALL London nightlife.
Our special ticket, food & drink packages have been designed for groups of 12+ people to allow you to get the best out of your get together. 

If your group size is 12 people + then fill in our online form to get the ball rolling:
I want to book the best event in London!
If you require further information or if you have any questions about group bookings, email our group booking team on [email protected] to discuss your perfect event.
Small groups can also have a ball with us
Groups of 6 - 11 people can book a group outing at TWOTW.
Save £5 per ticket - use discount code GROUPS85W at checkout. Book now
We are perfect for...
Team Building
There is no greater way of creating lasting bonds within your team than surviving a Martian invasion together! TWOTW is a fun and engaging in-person team building event that your employees and colleagues will love. It's fun, sociable, unique, and effective! Bring your team back together for the ultimate team building activity, and improve productivity and camaraderies in your workplace. TWOTW is one of the must see attractions in London and one of the top immersive experiences to visit in 2022 according to the Radio Times
Stag and Hen do's
A memorable event involves fun activities that you can all bond over. If you want a truly unforgettable Stag or Hen do, book yourselves onto a thrilling feature length adventure at Jeff Wayne's The War of The Worlds: The Immersive Experience and survive a Martian invasion, then follow that by having awesome themed cocktails and drinks in our steampunk bar - that features a Martian Fighting Machine! Take the stress out of finding the perfect activity for your bride or groom. 2,239 guests have given it a 5* rating on Tripadvisor, and we are regularly featured in online 'Top things to do in London' lists so we can guarantee you'll have an out-of-this-world experience.
Birthdays and Celebrations
A memorable event involves fun activities that you can all bond over. Why not make your special event stand out by celebrating your survival against the Martians at the same time! Previous guests say we are a fun place to eat and drink - you can choose from an excellent range of themed cocktails and delicious food in our amazing steampunk bar and restaurant The Spirit of Man.
This Christmas we have you covered. Visit our Christmas events page to find out more about making a Merry Christmas with the Martians this year.
Still wondering what to expect? Watch the trailer by clicking below.
WATCH TRAILER
Guests say "One of the best experiences we've had as a group in a long time."

A breathtaking 1hr 50min experience

Stunning multisensory effects

Jeff Wayne's iconic score

Martian themed cocktails in the world's only steampunk bar and restaurant where you can sit under the tentacles of a giant green-eyed, smoke-shooting Martian Fighting Machine!

All ages and personality types can enjoy, introverts and extroverts
You'll visit the Horsell Common's Royal Observatory, sneak into a deserted house, escape London by boat, see Martian forces attack Parliament, slide down the claw of a Martian Handling Machine, and even fly to Mars!
With over 5,000 5 star reviews on Tripadvisor, Reviews.io, Facebook and Google reviews, hear what other guests had to say about Jeff Wayne's The War of The Worlds: The Immersive Experience.
Not sure what to expect from a Martian invasion? Visit our gallery to see production shots and virtual reality stills for a taste of what your experience will look like.